Our offering and the technology behind it.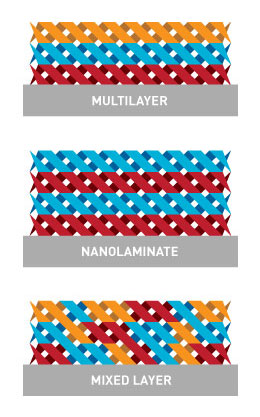 The enabling platform technology for generating the nanocoatings is a vapor deposition process called atomic layer deposition (ALD). Our experienced team has developed a unique expertise with the ALD process. The ALD technology was developed for the electronics industry where it is still used today in high volume manufacturing. We have advanced the technology platform and commercialized the process for advanced applications in new markets and industries. As a platform technology, we are interested in a number of markets including defense, packaging, medical, and textiles. If your company is interested in the exciting world of nanocoatings by ALD, let's work together, give us a call at 1-888-955-7550 or email us at info@vapor-pulse.com
Product Development:
We are on the hunt for co-development projects with companies who want innovative solutions to enhance their current product offerings. If there's a good fit, we will partner to gain access to the marketplace faster.
R&D Collaborations:
We are actively engaged in research and development projects with customers. If you are looking for help on your next project contact us for a discussion on how we can help you, whether for small proof of concept to larger SBIR/STTR and BAA grant and contract opportunities, we are open to working as a prime or subcontractor.
Consulting:
VaporPulse offers support for interested parties who want to try ALD. We support customers interested in building ALD reactors and offer training support for bringing up ALD processes. We will work with you to decide the best route for your product development needs.
Our Products
We have a number of other nanocoatings under development from the platform including coatings for the consumer, filtration, medical, and military markets. Currently we also offer a customized coating service for interested parties of the ALD process. We can provide low volume manufacturing on your parts and work closely with you to transition to high volume production through technology transfer or licensing to allow for manufacturing at your facility. Check out our services page for more information on our ALD coating offerings.
Our Difference
Our process is unique in that it has the capability to coat extremely complex shapes with conformal layers of high quality material. The VaporPulse nanocoating platform enables conformal, uniform growth of nanoscale coatings of organic, inorganic, and hybrid materials that are pin-hole free. Our focus is ALD for polymers and textiles but we understand traditional ALD for wafers and other planar substrates. If you are looking for a team of experts to help you bring ALD to your project, we'd like to speak with you and see how we can help.
VaporPulse's nanocoatings are uniform and conformal. Check out this comparison chart to see the advantages of our technology.