Interested in Atomic Layer Deposition (ALD)? Let us help.
At VaporPulse, we provide high quality Atomic Layer Deposition (ALD) Coating, Research and Development Services.  We are ALD Makers working with you to find the best solution for your application to help you advance your products from ideation to commercial reality.   Interested in a Quote?
We have the following ALD materials available on demand.  Do you need a material not listed?  Please contact us to inquire about working together to develop the process.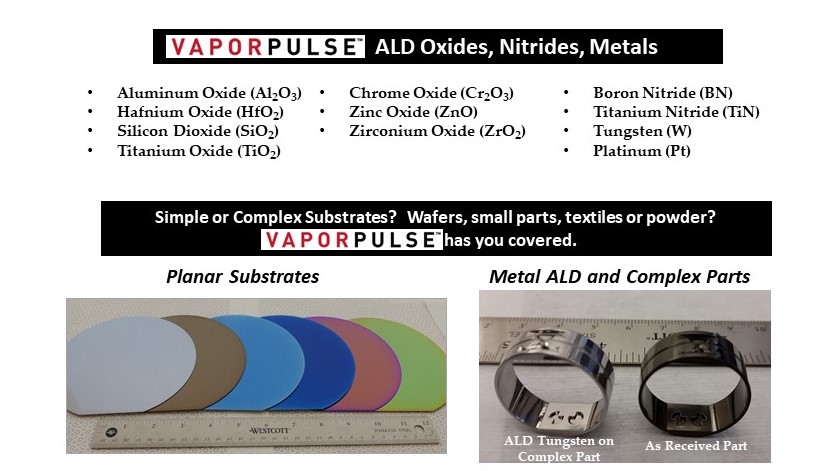 Our Guarantee
We guarantee satisfaction and will respond rapidly to every request. Our long-term relationships, professionalism, and dedication to customers makes us an ideal choice for your ALD Research and Development needs.
Testimonials
" We have been working with VaporPulse for over three years and their commitment to develop a custom ALD process that exceeded our performance specifications was impressive.  I would recommend VaporPulse's ALD development services to any researcher in the field of ALD "  – Curtis Hill, NASA
" We value working with your organization and consider VaporPulse a leading supplier for ALD coating services.  Your team has gone above and beyond in terms of service and provided rapid response and delivery of ALD coated samples that enabled ADT to continue R&D at a fast pace " – Hongjun Zeng PhD, Director of Advanced R&D, Advanced Diamond Technologies, Inc.